The Chicago Bulls trade of Nikola Mirotic to the New Orleans Pelicans for a few fringe bench players and most importantly a top 5 protected 1st round pick,
accelerated the Bulls Race to the Bottom for more lottery balls in the 2018 NBA draft.  However, if you think General Manager John Paxson's quest to have the worst squad is going to be easy, think again.  Here's a look at the bottom 9 teams in the standings during the All-Star break.
Team
W – L
Percentage
Games Back
30th Suns
18 – 41
.305
—

29

th  Hawks
18 – 41
.305
—
28th  Mavs
18 – 40
.310
0.5
27th  Magic
18 – 39
.316
1
26th  Kings
18 – 39
.316
1
25th  Grizzlies
18 – 38
.321
1.5
24th  Nets
19 – 40
.322
2
23rd  Bulls
20 – 37
.351
3
22nd Knicks
23 – 36
.390
5
You can see the Bulls must become better at being bad as they currently have the 8th worst record in the league.  This race to the bottom will need a photo finish as only 3 games separate the worst 8 teams in the NBA.  The new NBA draft lottery reform does not go into effect until the 2019 draft.  Therefore, bad teams will try to take advantage of their 2018 draft lottery odds before significant changes are implemented next season.   Don't be surprised if you see some of the worst teams sitting their best players and exaggerating their injuries in order to collect more losses for more lottery balls.
So, exactly who are the NBA's worst teams racing for?  At this moment, the top 5 2018 draft prospects are:
#5 Trae Young Oklahoma Sooners, 6'2", 180 – He leads the nation in scoring by putting up 30ppg.  Some people think he's a shoot first and don't ask questions later type of guy but he also leads the nation in assist by dishing out 9apg.  He has been compared to Stephan Curry due to his knack for getting hot from several feet behind the 3-point line.  Teams may shy away from Young because he will take some crazy shots, his defense is subpar and he looks shorter than his listed 6'2" measurable.  However, the guy is only a 19-year-old freshman and has plenty of time to improve.
How does Trae Young fit with the Bulls?  Bulls fans may think that Chicago should steer clear from Young since they already have Kris Dunn.  However, their attributes can complement each other, since Dunn is an awesome defender with a pass first mentality.
#4 Michael Porter Jr. Missouri Tigers 6'10", 215 –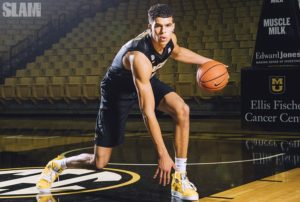 This kid had a chance to be the number one overall pick before being out for the season after injuring his back during the first game of the season.  He has been compared to Kevin Durant due to his length, athleticism, shooting and dribbling ability at the small forward position.  But his draft position depends on his recovery from microdiscectomy surgery on his back.  "The most famous recent example of a basketball player to undergo a microdiscectomy is Dwight Howard.  Howard had the procedure done in 2012 before he was traded to the Los Angeles Lakers (SBNation, Ricky O'Donnell, 2017)."  Lets take a look at Dwight Howard's numbers before and after surgery.
Before Surgery 2004 – 2012 – 18.5 points, 13 rebounds & 2.1 blocks
After Surgery 2012 – present – 15.7 points, 12 rebounds & 1.6 blocks
You can see Howard's stats did decrease but not too much for teams to be scared to make Porter Jr a top 5 pick.
How does Michael Porter Jr fit with the Bulls?  Perfectly, if he fully recovers from back surgery.  Throw Denzel Valentine on the bench and plug Porter Jr right there at small forward next to NBA all rookie 1st team lock Lauri Markkanen with Dunn and Zach LaVine holding down the guard positions.
#3 Luka Doncic Real Madrid, 6'8", 225 –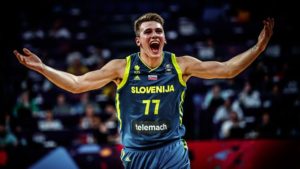 At the moment, this Slovenian prospect is averaging 16 points, 5 assists and 4 rebounds in just 24 minutes a game.  He's a big tall 19-year-old combo guard with good vision and scoring ability.  The knock on him is the bust potential that surrounds high profile international draft prospects.  Since 2009, only 7 international players have been selected in the top 5 of the NBA draft and the results have been underwhelming.
| | | | | | |
| --- | --- | --- | --- | --- | --- |
| Player | Draft Year | Draft Position | Rookie Year Team | Home Country | |
| Ricky Rubio | 2009 | #5 | Timberwolves | Spain | |
| Enes Kanter | 2011 | #3 | Jazz | Switzerland | |
| Jonas Valanciunas | 2011 | #5 | Raptors | Lithuania | |
| Dante Exum | 2014 | #5 | Jazz | Australia | |
| Kristaps Porzingis | 2015 | #4 | Knicks | Latvia | |
| Mario Hezonja | 2015 | #5 | Magic | Croatia | |
| Dragan Bender | 2016 | #4 | Suns | Bosnia | |
There's a few decent rotational players on this list but Kristaps Porzingis is the only and will always be the only all-star caliber player on the chart above.  I guess that's why they call him "The Unicorn".  Luka Doncic must defy some negative high international draft pick odds in order to live up to the hype.
How does Luka Doncic fit with the Bulls? Doncic is a PG/SG but at 6'8" he's big enough to guard small forwards.  He'll fit right into 'HoiBall' with his solid passing and shooting ability.
#2 Marvin Bagley III Duke Blue Devils, 6'11", 234 – Bagley is relentless on the boards at the power forward position and can finish with either hand after maneuvering with his decent post-game.  The big question with Bagley heading into the draft is, can he shoot the ball with efficiency outside the paint?  He's currently shooting 35% from 3-point range and 62% from the free throw line.  He must continue to improve his shooting ability because he's probably not going to be able to bully NBA big men for offensive rebounds like he's doing in college.
How does Marvin Bagley III fit with the Bulls?  At 6'11" and 234 pounds, he'll be a slightly undersized center next to Markkanen.  But he's still growing at age 19 and will hit the weight room.  Plus most NBA teams are embracing that small ball, so he shouldn't have much trouble during his transition to the pros.
#1 Deandre Ayton Arizona Wildcats, 7'1", 250 – I'll be shocked if this guy is not the #1 overall pick.  He's a true center with an array of post moves and an excellent shooting touch from inside the paint all the way to the 3-point line.  Despite being double teamed nearly every time he touches the ball, he's averaging 19 points, shooting 61% from the field, 74% from the Free throw line and 34% from 3-point range.  Teams will be terrified to pass on him at the very top of the draft due to his potential to have an impact similar to Karl Anthony-Towns and/or Joel Embiid.
How does Deandre Ayton fit with the Bulls?  Perfect replacement for Robin Lopez.  You can let Ayton work opponents in the post, pass out of double teams to an open Markkanen, pick & roll or pick & pop.  If Ayton can develop solid defensive awareness and continue to improve on his offensive talents, he'll be a perennial all-star.
The Bulls will continue their race to the bottom of the NBA standings but like I illustrated earlier, they've got some serious competitors.  Over a third of the league's general managers are deluding their rosters as much as possible to gain more lottery balls.  Time will tell who's the best at losing.