In my previous article 'Bulls Race to the Bottom', I revealed the top five 2018 NBA draft prospect: #5 Trae Young, #4 Michael Porter Jr., #3 Luka Doncic, #2 Marvin Bagley III and #1 Deandre Ayton.  However, March Madness is right around the corner and there's 7 other players with an opportunity to increase their stock enough to be considered to be a top 5 pick.
| | | | | | |
| --- | --- | --- | --- | --- | --- |
| Player | Position | School | Year in School | Ht | Wt |
| 12. Mikal Bridges | SF | Villanova | Junior | 6'7" | 210 |
| 11. Mo Bamba | C | Texas | Freshman | 7'0" | 220 |
| 10. Wendell Carter | C/PF | Duke | Freshman | 6'10" | 260 |
| 9. Collin Sexton | PG | Alabama | Freshman | 6'2" | 185 |
| 8. Miles Bridges | SF | Michigan State | Sophomore | 6'7" | 225 |
| 7. Kevin Knox | SF | Kentucky | Freshman | 6'9" | 215 |
| 6. Jaren Jackson Jr | C/PF | Michigan State | Freshman | 6'11" | 240 |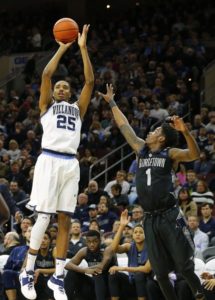 #12 Mikal Bridges – He played his role of offensive slasher and top wing defender off the bench as a freshman during Villanova's 2015-16 championship season.  Bridges is now a junior and has proved that he is more than just a high energy, reliable defender with incredible athleticism.  Mikal Bridges is shooting 42% from 3 point range while averaging 17 points per game.  He's probably going to fall out of the top 10 of the draft because of the belief that "one and done" freshies have more potential than prospects who stay in school for a few years.  But NBA scouts can't ignore the hard work he put into becoming a legitimate shooter.
How does Mikal Bridges fit with the Bulls?  This guy has exciting leaping ability, is a solid defender, learned how to win at Villanova and became a gym rat to significantly improve his shooting ability at the wing position.  He has a 3-D game similar to Trevor Ariza.  Mikal Bridges would challenge David Nwaba and Denzel Valentine for that starting small forward position.
#11 Mohamed Bamba – Bamba has slightly slipped down draft boards because his offensive game is a work in progress.  His post-game is average and defenders usually sag away from him when he pulls up for jumpers.  However, due to his athleticism and 7'9" wingspan, he's swatting 4 shots per game to go along with his 13 points and 11 rebounds.  On the next level, he'll have the potential to have a similar impact of Tyson Chandler, Andre Drummond and/or Deandre Jordan.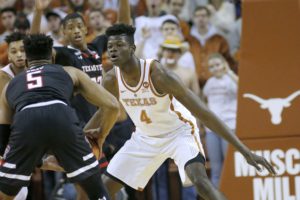 How does Bamba fit with the Bulls?  Chicago has to find a replacement for Robin Lopez who turns 30 on April 1st and Cristiano Felicio is probably not the one.  The Bulls soft defense could use a towering shot blocking presence in the paint.  At this moment, Chicago is the 2nd worst team in blocks per game at 3.8 and the 7th worst team in points allowed per game at 109.6.  Teaming up the shot altering Mo Bamba in the paint with Chris Dunn who's currently 4th in the NBA in steals per game at 2.02, sounds enticing but Bamba must avoid the label of offensive liability.
#10 Wendell Carter – Carter has been balling in the shadows of a few of his teammates: Top 3 draft prospect Marvin Bagley III, the polarizing Grayson Allen and dynamic freshman point guard Trevon Duval.  Carter also deserves some of the limelight due to his high motor for rebounds at 9.5 per game, defensive awareness with 2 blocks per game and especially his shooting touch.  Wendell Carter is currently shooting 50% (18/36) from 3 point land.  His knack for offensive efficiency puts him one step above Mo Bamba.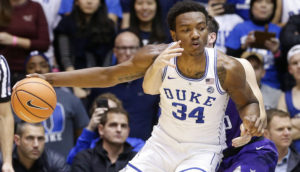 How does Carter fit with the Bulls?  His shooting ability will allow him to fit quite well into HoiBall and he'll be a decent complimentary big-man to Lauri Markkanen.  However, he'll have to prove that he's a better defender and rebounder than Bobby Portis in order to justify significant minutes in the Bulls big-man rotation.
#9 Collin Sexton – He's considered to be the 2nd best point guard available in the draft behind Trae Young.  However, Sexton has a strong argument to claim he should be the 1st point man taken in the 2018 draft.  Sexton's unranked Alabama squad beat Trae Young's #12 ranked Oklahoma team 80 – 73 earlier this season.  Collin Sexton scored 18 points and shot 57% from the field while Young scored 17 points and shot 35% from the field.  Sexton looks to be a solid future point guard in the NBA but his ability to be a distributor will be questioned due to his 3.5 assist and 2.5 turnover per game averages.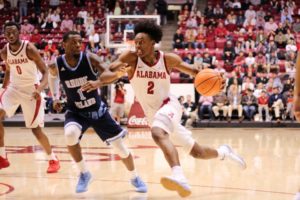 How does Sexton fit with the Bulls?  He simply does not fit.  If Bulls general manager John Paxson is convinced that Sexton is a future all-star, he may try to team him up in the starting backcourt with Kris Dunn.  But that backcourt scenario is highly unlikely.  Phoenix, Orlando, Utah, Denver, or the Clippers would be a much better fit for Sexton.
#8 Miles Bridges – He's a big and athletic small forward at 6'7" and 225 pounds.  Bridges was a lock to be a top 10 pick in the 2017 NBA draft but surprised nearly everyone by returning for his sophomore season at Michigan State.  His stock has slightly dipped in most of the countless amount of mock drafts but not in my book.  Miles Bridges is averaging 17ppg, 7rpg, shooting 37% from 3 point land, 89% from the free throw line, plays hard nose defense and can touch the top of the backboard with his insane leaping ability.  He receives criticism due to his tendency to settle for jumpers and he must learn to create his own shot more consistently while developing into a playmaker for teammates.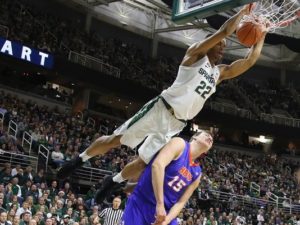 How does Miles Bridges fit with the Bulls?  He would be a day 1 starter for the Bulls at the small forward position.  Miles Bridges would make Chicago fun to watch again while teaming up with Zach LaVine to show off their highlight reel finishes at the rim.
#7 Kevin Knox–He passes the eye test all day with his picture perfect shooting stroke, floaters around the rim and dunk attempts to create posters on defenders or earn a trip to the free throw line after a strong drive.  Kevin Knox is a tall 6'9" smooth small forward who can create his own shot.  He's averaging a decent 15ppg while shooting 45% from the field and 35% from downtown.  But he's in a difficult situation while standing out as the best player in John Calipari's all freshmen starting lineup.  He's holding his own despite being the vocal point of every opponent this season.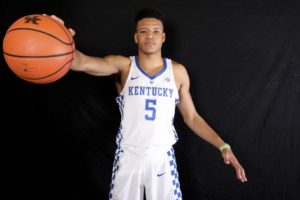 How does Knox fit with the Bulls?  Kevin Knox would be a more than welcome small forward in Chicago's starting lineup.  His ability to consistently produce on an inexperienced team, aptitude for scoring and athletic ability shows that becoming a future NBA all-star is an attainable goal for him.
#6 Jaren Jackson Jr. – Triple J's stock continues to rise due to his superb 3 blocks per game and especially his 42% 3 point shooting this season.  He's a stretch big-man with advanced defensive awareness.  However, it's hard for him to get opportunities to score with teammates Miles Bridges, Joshua Langford, Cassius Winston and Nick Ward combining to take 66% of the team's shots this season.  Jackson Jr is averaging 11 points on 6.7 shot attempts per game.  Is Jaren Jackson Jr more than a shooter and defender?  Will he develop a solid post-game?  Can he drive and finish consistently in the paint?  If not, he'll still add significant value to any team due to his shooting efficiency and relentlessness on the defensive end.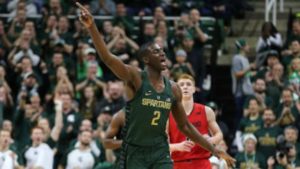 How Does Jackson Jr fit on the Bulls?  Even if the Bulls realize that they can't run their offense through him, he'll still be a solid contributor as a big-man who can shoot and defend.  Markkanen would be more than happy to have a big-man by his side to relieve some pressure off him on both ends of the floor.  Jackson Jr also has the potential to develop into a player that can create his own shot with post moves and to become a mismatch nightmare in pick and rolls.  Basically, Triple J has a high floor and ceiling. He has a solid foundation of skills that any organization would love to build on.