By Adewale Apata
When the free agency signing period officially begins on Wednesday at 3pm, the Bears are scheduled to sign #1 free agent wide receiver and now former Jaguar Allen Robinson to a 3 year $42 million dollar deal.  Robinson stock is still high based off his 2nd season in 2015 where he gained 1,400 yards and tied for the league lead in receiving TDs with 14.  His production dropped in 2016 as he gained 883 yards with 6 TDs, then he tore his ACL in his 1st game of the 2017 season.  However; he is only 24 years old with a birthday on August 24th, has proven that he is capable of putting up 1st ballot Pro Bowl numbers and is a big target measuring in at 6'3" and 220 pounds.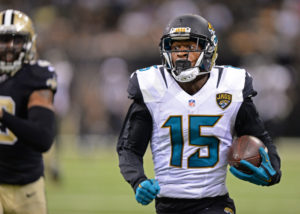 Allen Robinson was rumored to sign with rising star QB Jimmy Garoppolo and the WR starved 49ers.  Conventional wisdom suggested that Robinson would choose the proven Jimmy G over the raw and inexperienced Mitchell Trubisky.  Apparently, the Bears new offensive play calling scheme contributed to his decision to move up to The Windy City.  Here's what Allen Robinson had to say about signing on with Chicago, per Josina Anderson, "I like what coach Nagy did from an offensive standpoint in Kansas City.  Being able to know that he is an offensive-minded coach and seeing what he's done before helped me."  Ryan Pace deserves plenty of credit for being hell-bent on hiring Chief's offensive coordinator Matt Nagy in the off-season.
Robinson was attentive to the success Nagy had with the Kansas City's #6 ranked offense in the NFL last season and decided that he can get back to his Pro Bowl ways in Nagy's offensive scheme which falls under the proven Andy Reid umbrella.  Mitch Trubisky finally has his #1 WR and the off-season has just begun.