By Adewale Apata
Can you name a team that has a worse wide receiver situation than the Chicago Bears?  …  I didn't think so.  The Bears only have 3 wide receivers under contract for next season.  Kevin "IR" White, soon to be cut Marcus Wheaton and special teamer Josh Bellamy.  These guys make Alshon Jeffrey look like Art Monk.  But we can't cry over spilled milk, Ryan Pace has got to mop up this mess and find some quality WRs for his golden boy Mitch Trubisky.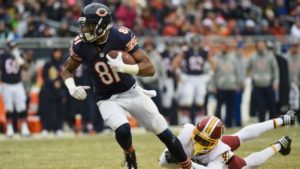 Restricted free agent Cameron Meredith was an pleasant surprise during his 2nd season in 2016 recording 66 receptions, 4 TDs and 888 yards in 14 games.  Hopes were high for Meredith heading into the 2017 season as a starter but he tore his ACL which kept him out for the season.  He'll be ready for training camp this summer with the potential to be a 1,000 yard and 80 reception type of WR in the new Matt Nagy offense.
The Bears must also decide if they want to re-sign unrestricted free agents Dontrell Inman (334 yards and 23 receptions in 8 games) and/or Chicago's leader in yards(614) and receptions(59) Kendall "The Tallest Midget" Wright.  Even if Pace re-signs both Wright and Inman, major upgrades would still need to be made.  There are 2 unrestricted free agent wide receivers with star potential that could help get the Bears offense out of the mud.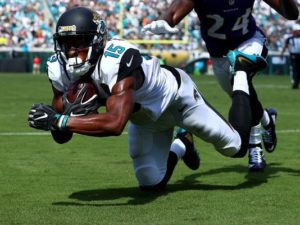 #1)Allen Robinson Jacksonville Jaguars–Robinson turned into a monster during his 2nd season in 2015.  He led the NFL in TD catches with 14, had 80 receptions, 1400 yards and was selected to the pro bowl.  In the following season, he started all 16 games but his production dropped off significantly.  In that season, he produced numbers very similar to Cam Meredith's with 6 TDs, 883 yards and 73 receptions.  The 2017 season was supposed to reveal if Robinson was the pro bowl player that he displayed in 2015 or his mediocre self from 2016.  The answer to that inquiry was never revealed after he tore his ACL in the 1st game of the season.
There's a mystery factor involved when evaluating Allen Robinson.  Is he a one season wonder?  Will he fully recover from his ACL injury?  The injury concern is understandable since the Bears have had foul luck keeping WRs healthy in the last few years.  But Chicago does not have any collateral with their WR dilemma and you can't deny Robinson's outstanding 2015 season.  They've got to attempt to pay Allen Robinson and be convinced that Trubisky and Nagy can turn him back into a pro bowler.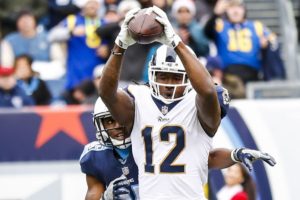 #2) Sammy Watkins Los Angeles Rams–Watkins was the 4th overall pick in the 2014 NFL draft and he showed some promise in his 1st couple seasons.  He averaged 70 yards per game, had 125 receptions and 15 TD catches in 29 games.  His 3rd season was not as promising in 2016 as his productivity fell off and he only played in the Bills final 8 games due to a fractured foot injury.  The Bills Mafia was eager to watch Watkins play up to his potential in the 2017 season but he was traded to the Rams with a 6th round pick for cornerback E.J Gaines and a 2nd round pick.
Despite playing on the 3rd ranked scoring offense in the league, Watkins had an underwhelming season by only averaging 39.5 yards per game.  Sammy Watkins is overrated but he's only 24 years old and he was 7th in the league in TD catches amongst WRs in the 2017 season.  If the Bears don't land Allen Robinson, expect them to overpay and gamble on the potential of the young Watkins .