By Adewale Apata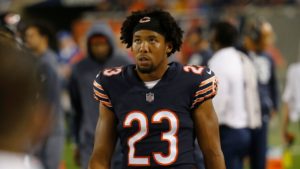 Kyle Fuller gets my vote for Bears comeback player of the year after bouncing back in a huge way after an arthroscopic knee surgery that kept him out for the 2016 season.  He was 2nd in the NFL in passes defended with 22 and is just entering the prime of his career at age 26 (Feb 16th).  Fuller deserves that transition tag which will pay him $12.97 million, the average salary of the top 10 highest paid cornerbacks in the NFL.  Since Ryan Pace decided to transition tag Fuller, the Bears can match any offer that he receives and they have until July 16th to sign him to a long term deal.  Kyle Fuller is on record stating that he wants to remain a Bear and Ryan Pace recently stated that he will pursue a long term deal with him and his agent.  Now Pace has time to sit back and see if any CBs from the Bears 2017 roster can be a viable compliment to Fuller.
Bears unrestricted free agent, Prince Amukamara came through with a decent 2017 season on the opposite side of Fuller.  The Bears CB tandem only allowed 1 wide receiver to gain 100 yards or more on them (Antonio Brown 110 yards).  That's a significant accomplishment when you consider the star power at WR that the Bears faced last season:  Julio Jones 66 yards, A.J Green 64 yards, Alshon Jeffery 52 yards, Michael Thomas 77 yards, Mike Evans 93 yards, Stefon Diggs 35.0 yards per game, Adam Thielen 47.5 yards per game, Jordy Nelson 47.5 yards per game and Davante Adams 51.5 yards per game.  Prince was no cup cake out there on his corner but he may still be replaced or at least challenged for his starting spot due to his lack of playmaking ability and injury history.  Amukamara has 0 interceptions in his last 2 seasons and only played in all 16 games once in his 7 year career back in 2013.
Nickelback Bryce Callahan is also an unrestricted free agent and the Bears shouldn't have trouble resigning him.  He was a 2015 undrafted free agent by the Bears and has played well enough to be ranked as the #31 CB in the NFL by Pro Football Focus.  He also passes the eye test through his quick awareness in coverage and sure tacking ability.
Marcus Cooper was a disappointing 2017 free agent signing and should be cut as soon as possible.   2016 undrafted free agent Cre'Von LeBlanc showed some versatility with the ability to play on the outside or at nickelback.  Cornerback Sherrick McManis is mainly a special team's ace.  Before the NFL draft begins, the Bears must try to pay a highly rated unrestricted free agent CB that can challenge or replace Prince Amukamara.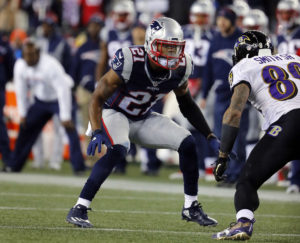 #1) Malcolm Butler New England Patriots – He went from 2014 undrafted free agent to Super Bowl hero in his rookie season.  Butler made the Pro Bowl in his 2nd year and sustained his high level of play in his 3rd season.  In 2017 he fell out of favor with the coaching staff and was benched during the Super Bowl versus the Philadelphia Eagles despite only missing 1 start since his 2nd year in the league.  Bill Belichick looked foolish in their upset loss for deciding to keep him on the bench as the Eagle's offense couldn't be stopped with 374 passing yards and 41 points.  Last season Butler's coaches lost confidence in him but he is determined to prove his mediocre 2017 year was just an aberration.
"I will do what I have always done to work hard and prepare for next season to be the best I can be.  I can't wait for the 2018 season to get here. I will be ready!" – Malcolm Butler.
Teaming the 28 year old (Mar 2nd) Butler and his huge chip on his shoulder with Kyle Fuller would be an ideal fit.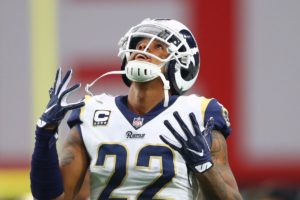 #2) Trumaine Johnson Los Angeles Rams – The 28 year old (Jan 1st) Johnson is an interesting CB free agent prospect who did not become a regular starter for the Rams until his 4th season in 2015.  In that season, he exceeded expectations by finishing tied for 2nd in the NFL with 7 interceptions.  He was a free agent after that season and the Rams franchise tagged him for both 2016 and 2017.  He caught 3 interceptions in both his franchise tagged years combined and Pro Football Focus ranked him as the #68 CB in the NFL for the 2017 season.
Trumaine Johnson has the look of an overrated 1 season wonder.  If Johnson is as good as advertised; why did the Rams trade a 2018 – 4th round pick and a 2019 – 2nd round pick to the Chiefs for CB Marcus Peters and a 2018 – 6th round pick?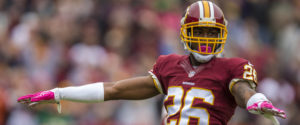 #3) Bashaud Breeland Washington Redskins – This 26 year old (Jan 30th) starting CB has played in the shadows of Josh Norman in the last 2 seasons.  He has only missed 4 games in his 4 years in the league and has 8 career interceptions.  Don't be surprised if Ryan Pace pursues Breeland over Johnson due to him being younger, more consistent and less expensive.
Seattle Seahawks veteran cornerback Richard Sherman is expected to be released.  However, Ryan Pace is not likely to pursue him due to the fact that the former Pro Bowler will turn 30 on March 30th and he's recovering from a ruptured achilles tendon.  Plus Sherman wants to play on a Super Bowl contender and the Bears are still rebuilding.